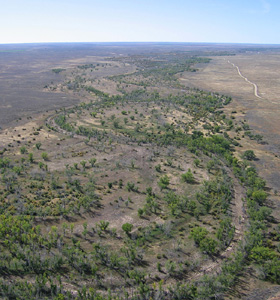 Landscapes of the
Central Great Plains

Overview and
Table of Contents

James S. Aber and Susan W. Aber
Emporia State University Emeritus


For most of the public, the landscape of the central Great Plains is flat, dull, and boring; it is simply a place to fly over or drive across to another destination. Spanning the vast region between the Missouri River and Rocky Mountains, the central Great Plains extend from less than 800 feet elevation on the east to more than 7000 feet at the western margin. Surprisingly diverse landscapes with many scenic and rugged portions contrast with the predominant flat plains.

The landscape, or the lay of the land, is the study of geomorphology, which deals with the description, age, and origin of landforms as well as how landforms change through time. These lectures were developed originally for a course in field geomorphology at Emporia State University (ESU). The lectures have been revised and updated for online presentation with an emphasis on geomorphology of landscape regions in Kansas and Nebraska.
Table of Contents
Chapter
Subject
Chap. I
Introduction and geomorphology
Chap. II
High Plains, Pine Ridge, White River Badlands
Chap. III
Arkansas River and Platte River valleys
Chap. IV
Nebraska Sand Hills
Chap. V
Smoky Hills, Blue Hills, and Chalk Buttes
Chap. VI
Flint Hills and Red Hills
Chap. VII
Glacial Hills
Chap. VIII
Osage Cuestas and Chautauqua Hills
Chap. IX
Cherokee Lowlands and Ozark Plateau
Chap. X
Conclusions, acknowledgments, references
The Geological Society of America has published field guides that are useful for further information and detailed information about specific subjects and sites in Kansas and surrounding areas.
Centennial Field Guide, vol. 4, South-central section of the Geological Society of America (Hayward 1988).

From Precambrian rift volcanoes to the Mississippian Shelf Margin: Geological field excursions in the Ozark Mountains (Evans and Aber 2010).

Exploring extreme and unusual geology in the stable midcontinent (Schulmeister and Aber 2019).
Title image (above) – Meandering dry channel of the Cimarron River in the High Plains at Point of Rocks in the southwestern corner of Kansas. Aerial image taken by ESU students using a helium blimp and radio-controlled camera.

Note: these webpages and illustrations are intended for viewing on a laptop computer, large tablet, or desktop computer with a monitor at least 10 inches in size. A smartphone or small tablet is not suitable for viewing these webpages.

Return to academic webpages.

All rights reserved (2022).
Text and images © by the authors.