Introduction
Cheyenne Bottoms is the premier wetland of Kansas. Located in the center of the state, it is considered to be among the most significant sites for shorebird and waterfowl migration in the United States (Zimmerman 1990). At least 356 bird species have been spotted at Cheyenne Bottoms, some of which are threatened or endangered—whooping crane, peregrine falcon, piping plover and least tern (Penner 2010).

The site is an important point for rest and nourishment for hundreds of thousands of birds in their seasonal migrations between Arctic summer breeding grounds and southern winter ranges along the Gulf Coast, Caribbean and South America. Cheyenne Bottoms is considered by many to be the single most important wetland for migrating shorebirds in North America, and it is designated as a Ramsar wetland of international importance.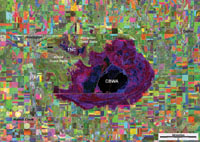 Multitemporal satellite image based on 2006 (drought), 2007 (flood) and 2009 (normal). Bright colors represent significant changes in land cover from year to year; dull-gray colors indicate little change in land cover. The broad maroon-purple zone shows the extent of high water in 2007; black and dark blue show perennial water bodies. CBWA - Cheyenne Bottoms Wildlife Area; TCN - The Nature Conservancy. Adapted from Aber, Pavri and Aber (2012, fig. 16-20).

Beginning in 2002, we started research at Cheyenne Bottoms in cooperation with the Nature Conservancy. Our primary methods are various forms of remote sensing—satellite imagery and aerial photography, combined with ground observations. Specifically we have developed techniques and utilized low-height kite and blimp aerial photography to acquire vertical and oblique views that depict the landscape in great detail. Our goal is to document, analyze, and understand climatic and human impacts on this dynamic wetland environment (Aber et al. 2016, 2021).
---
The following kite aerial photographs were taken in mid-May 2005. At this time, the marshes contained substantial water, and wetland vegetation was greening up nicely. The images are arranged to provide full 360° panorama of the Nature Conservancy marsh complex at Cheyenne Bottoms.
View westward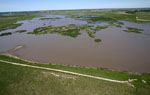 View toward NW
View northward
View toward NE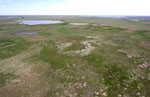 View eastward
View southward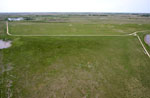 View toward SW