Environmental Research
Cheyenne Bottoms, Kansas
2021
Spring and summer
After a wet spring, the Nature Conservancy pools were full of water—see May 2021 precipitation. We first visited in early June, but wind was insufficient to attempt kite aerial photography. We did take some sunny pictures from the observation tower.
Views northward from the observation tower in early June (left) and early August (right). Compare these views from the top of the tower with kite aerial photos (below).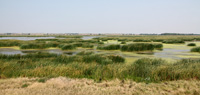 We finally had a chance to return to Cheyenne Bottoms in early August to conduct kite aerial photography (KAP) with good wind and sunshine. This represents the twentieth year of annual and seasonal aerial photographs we have acquired at TNC Cheyenne Bottoms Preserve (see below). Pools remained full, although water level had begun to fall since spring.

Wide-angle KAP overviews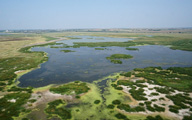 View to northwest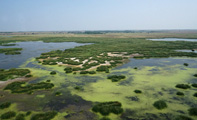 View northward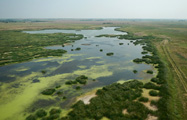 View to northeast

The spread of duckweed (Lemna minor) over shallow-water areas that we noted last year continued into the summer of 2021. Aerial spraying of aquicide in 2018 had greatly reduced cattail in the southern half of TNC marsh/pool complex, but now cattail is beginning to recover in that area around the margin and in small clumps.
| | | |
| --- | --- | --- |
| | Wet meadow south of the observation tower and access road was mowed for hay this summer (left) in order to provide stopover habitat for fall migrating shorebirds. This did pay off as some Buff-breasted Sandpipers (Tryngites subruficollis) visited one of the hay fields in late July (right). | |
The margin of the pool is a narrow transitional zone to upland prairie habitat. As water level falls during the summer, this margin gradually dries out, which provides a chance for opportunistic plants (weeds) to colonize. In this zone, we observed snow-on-the-mountain (Euphorbia marginata), thistle (Cirsium sp.), curly dock (Rumex crispus), and smartweed (Polygonum sp.). Toward the pool, small stands of bulrush survive in places surrounded by cattail, and duckweed covers the shallow water surface.
Pool margin KAP and ground shots
Close-up KAP detail of pool margin (left); cattail to left and upland grass to right. The pool edge is marked by snow-on-the-mountain (white leaves) and curly dock (brown). The swirling pattern in the grass is known as "cow lick" (right).

| | | |
| --- | --- | --- |
| | Left: curly dock (brown), bulrush (round green stems), and smartweed (small white flowers). Right: sulphur butterfly (Phoebis sennae) on thistle flower. | |
| | Detailed view of snow-on-the-mountain (left), which has a bitter taste and may cause skin irritation similar to poison ivy. Duckweed on shallow water surrounded by cattail (right). | |
Autumn update
We were able to visit Cheyenne Bottoms again in mid-November. Fall rain had completely filled the pools, and nearly all emergent vegetation already was in its late fall/winter dormant mode. Cattail were releasing seeds from their sausage-shaped pods. The abundant duckweed of summer was completely gone, and pool water held little suspended sediment. Many flocks of waterfowl were on the water in distant parts of the pool.

Panoramic overview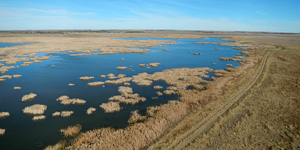 Looking toward the north (left) and northeast (right).
Assembled from two overlapping shots.
Kite's-eye views
Looking toward the north (left) and northeast (right) over the full pool. Cattail, bulrush and other emergent wetland vegetation have lost all color and are starting to break down. The water appears relatively clear.

| | | |
| --- | --- | --- |
| | Looking to the southeast (left) over a wet meadow area with disked mudflats in the background. Close-up view (right) of pool margin with kite flyers at the bottom. | |
20 years of bird's-eye views (2002-2021).


Return to beginning.
Return to Cheyenne Bottoms homepage.
All rights reserved © (2021).