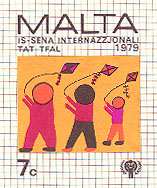 Weather Conditions for
Kite Aerial Photography
James S. Aber
Wind
Wind is the starting point for successful kite aerial photography. In the author's experience sustained wind speeds between 10 and 20 mph (15-30 km/h) are optimum for lifting the KAP rig. Lighter wind is not reliable for maintaining kite altitude, and wind gusts over 25 mph (40 km/h) could damage equipment or cause loss of kite control. Direction of wind is generally much less important, as adjustments in ground location or camera position usually can be made to obtain good aerial vantages.

Beaufort wind scale (wind in miles per hour)
Wind
Beaufort Category
Surface Effects
KAP
&lt 1
0. Calm
Smoke rises straight up
Blimp
1-3
1. Light air
Smoke drifts, wind cannot be felt, smooth water
Blimp
4-7
2. Light breeze
Wind felt on face, leaves rustle, ripples on water
Difficult KAP
8-12
3. Gentle breeze
Leaves and twigs flutter, small flags extended
Good KAP
13-18
4. Moderate breeze
Wind raises dust, branches move, flags flap,
small waves, numerous whitecaps
Excellent KAP
19-24
5. Fresh breeze
Small trees sway, many whitecaps, some spray
Fair KAP
25-31
6. Strong breeze
Branches move, lines whistle, whitecaps everywhere
Dangerous KAP
&gt 32
7+. Gale
Large trees move, walking difficult, howling sound,
large waves, foam streaks
Not advised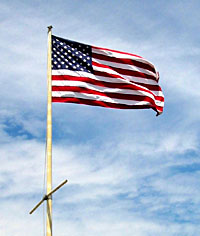 Flags are among the best indicators of wind conditions.
Left: good KAP with gentle to moderate breeze.
Right: poor KAP with only a light breeze.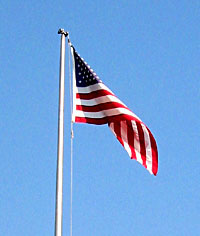 Metric/English conversion for wind speed
Meters per second
(m/s)
Km per hour
(km/h)
Miles per hour
(mph)

1

3.6

2.2

2

7.2

4.5

3

10.8

6.7

4

14.4

8.9

5

18.0

11.2

6

21.6

13.4

7

25.2

15.7

8

28.8

17.9

9

32.4

20.1

10

36.0

22.4

11

39.6

24.6

12

43.2

26.8

13

46.8

29.1

14

50.4

31.3

15

54.0

33.5

In terms of meteorological conditions, the day before or after the passage of a weather front is often favorable. High-pressure systems typically have light and variable winds; whereas, low-pressure systems may generate gusty wind that is too strong. On most days, wind speed and gustiness reach a peak in the early to mid-afternoon hours. Cloud cover and dust are also usually greatest during afternoon. Beware of days, when the weather forecast includes tightly spaced isobars. Special considerations apply to kite aerial photography at high-altitude.
Lighting
Completely clear to mostly sunny atmospheric conditions are a fundamental requirement for all types of aerial photography. The reasons for this are twofold.
| | |
| --- | --- |
| | Shadows. Shadows are an important element in aerial photography. Shadows create a 3-dimensional effect that helps for identification of ground features. Sharply defined shadows aid in recognition of objects that may appear unfamilar when viewed from above, and shadows may indicate the heights or slopes of features. An aerial photograph without shadows appears "flat" and lacking in definition. Shadows may be enhanced by taking photographs with a low sun position--early morning, late afternoon, or winter. |
Lighting conditions include many factors beyond the presense or absence of clouds. The direction of photography in relation to the sun is another important variable to take into account. Photographs in oblique views are taken normally in directions away from the sun (or at right angles to the sun). This provides for good illumination and some shadowing. An exception to this general rule is the opposition effect, where the camera is in direct alignment with the sun and ground area being photographed. In most cases, oblique photographs taken toward the sun result in high brightness contrast but poor color, because of specular (mirror) reflections and strong shadows. Sun glint may create dramatic effects over water bodies.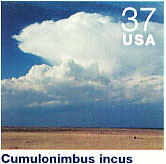 Time to pack up KAP equipment,
when you see this cloud coming!
Temperature and Exposure
Given a windy, sunny day, the next weather consideration is temperature, which has effects both on equipment and the kite flyer. Batteries lose power rapidly at temperatures below 40°F (5°C). This is particularly noticeable for small rechargeable batteries used on KAP rigs. Film is not affected by low temperature. However, color film may become unstable when subjected to high temperature above 95°F (35°C). On hot summer days, film and cameras may be stored in a sealed container within a cooler to minimize exposure to high temperature.

At low temperature, wind chill is an important factor for KAP flyers. For example, at 45°F (7°C) with a wind of 25 mph (40 km/h), the wind chill is 22½°F (-5°C); the same wind at 25°F (-4°C) feels like -7°F (-22°C). Note: wind chill applies only to people and warm-blooded animals; it has no effect on cameras and other mechanical devices. For cold weather KAPing, wear well-insulated clothing with wind-breaker outerwear. Wind is a relief on hot days, as it helps cool the body by evaporation of sweat. Drink plenty of fluid to prevent rapid dehydration. Bright sun means strong ultraviolet (UV) radiation at any time of year, especially at high altitude or low latitude, near water bodies, or with snow cover. Strong sun screen and good sunglasses are most important.
Related sites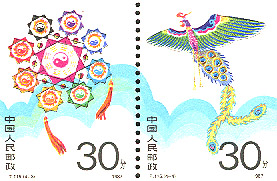 Return to Great Plains KAP homepage.
Last update Jan. 2008.