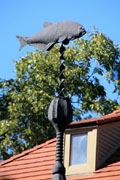 History of Geology

James S. Aber
Professor Emeritus
Earth Science Department
Emporia State University

The historical development of geology as a scientific discipline from ancient civilizations to the modern space age. Historical context and cultural basis of major geological theories regarding the origin of the Earth and processes that have influenced the Earth's development. The lives and contributions of individuals, whose ideas have shaped scientific thought and public opinion. Scientific technology, exploration, and the changing role of science through time. History of American and Kansan geology.

These web pages remain available in archive status,
but the course will not be updated after May 2017.

Instructor: James S. Aber (email: jaber@g.emporia.edu).

Prerequisite: Introduction to earth science or history of science; consent of instructor.

Text books:

The seashell on the mountaintop: How Nicolaus Steno solved an ancient mystery and created a science of the Earth by Alan Cutler (2004). See Google books.

The ice finders: How a poet, a professor, and a politician discovered the Ice Age by Edmund Blair Bolles (1999). See Google books.

It began with a stone: A history of geology from the Stone Age to the age of plate tectonics by Faul and Faul (1983). See Google books.

Note: New and good used copies are available from Amazon.com for reasonable cost.

Supplementary reading: Additional short readings and illustrations are provided as pdf files for downloading via FTP (not available).

ESU library has a large collection of books dealing with history of geology. Most of these are cataloged in the 509, 550 and 560 sections in the stacks and reference department.
This course is designed for any student or teacher with an interest and introductory background in either earth and the natural sciences or history of science. The course is delivered in hybrid modes via on-campus sessions and online. We focus on individual scientists who were involved with development of important geological concepts. We also examine the roles of various kinds of geological institutions.




All course curriculum © by the author.
J.S. Aber (2020); all rights reserved.
Return to geospectra.net academic webpages.