KAP Oblique Views of Ninnescah Study Site
These photographs taken by ESU students during a geomorphogy field trip on 18 Oct. 1997 (&copy J.S. Aber).
View toward NNW. The green area in lower-right portion was the focus of detailed vertical photography for mapping stream erosion patterns. Students near right-bottom of view are laying out survey markers in preparation for taking vertical photographs.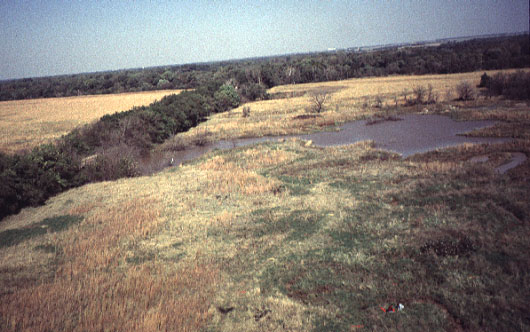 Low-oblique view toward west. The green strip across scene center was the detailed study site, in which a meandering stream has cut intricate channels--upstream to left (south), downstream toward right (north). Survey markers are laid out along trails on either side of study site, and additional markers are placed along the stream channel in between.

Return to Ninnescah project.