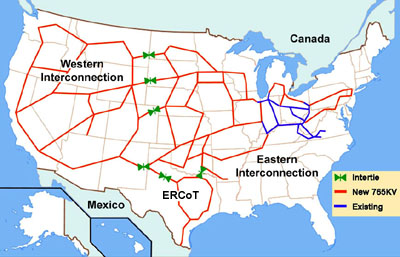 Super electrical grid using 765KV AC transmission lines and interties. Proposed for the U.S. in 2008 by the American Wind Energy Association. Image adapted from Wikimedia Commons.
Note: the supergrid infrastructure plan shown above was killed by the Trump administration in order to help the coal industry. The Trump effort was largely unsuccessful, as shown by the drastic decline of coal-fired power plants (see above). However, the lack of an integrated nationwide supergrid has continuing consequences. Wind-generated electricity from western Kansas, for example, cannot be shared easily with the large urban/industrial area along the Front Range of the Rocky Mountains in Colorado, and Texas suffered an energy calamity in February 2021 because of its isolation.
Texas energy fiasco – The energy infrastructure of Texas suffered its worst failure in February 2021 as a result from a series of severe winter storms. More than 4½ million homes and businesses lost power; there were shortages of water, food, and heat, and about 250 people died as direct or indirect results. Texas Governor Abbott and others initially blamed frozen wind turbines and solar panels—another deception.
Hindsight has demonstrated the primary cause for this calamity was due largely to the failure of natural-gas-powered generators (Homeland Security 2021). This led to partial shutdown of the electric-grid system by the Electric Reliability Council of Texas (ERCoT), which is independent of other electric-grid interconnections in the U.S. (see above). The disconnection of ERCoT made it difficult, in fact nearly impossible, to import electricity from outside the state.
Texas had been warned a decade before that its electric-grid system was vulnerable to failure during cold weather. But this warning went unheeded. In fact, cold weather had caused previous system-wide rolling blackouts, most noteably in 1989 (Homeland Security 2021), long before wind energy came to Texas. So the potential for cold-weather impact on ERCoT was well known.
Wind turbines and natural gas certainly can be prepared for operation in extreme cold conditions, such as the northern Great Plains. Wind turbines, in particular, are abundant in North Dakota, Minnesota, and Iowa, states known for bitter cold winters (see above). Nickel-stainless-steel alloys are used for key components along with other cold-climate options for low-temperature turbine operation. Typical Vestas turbine models, for instance, are rated for operation down to -30 °C (-22 °F) and for withstanding ambient temperature as low as -40 °C (-40 °F). See Vestas cold climate.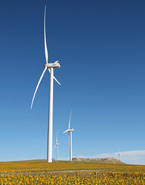 Busch Ranch Wind Farm at North Rattlesnake Butte, 6200 feet (~1900 m) elevation on the High Plains of Colorado. Vestas V100 turbines operate in severe winter conditions for this high-altitude environment.

Much finger-pointing and disinformation was circulated at the time. For instance, a picture of a helicopter de-icing turbine blades, supposedly from Texas, turned out to be an experiment in Sweden. But the simple truth is that ERCoT neglected to prepare its electrical infrastructure for severe cold weather conditions, in spite of warnings and previous failures. Such preparations are routine elsewhere, and really have nothing to do with the potential for wind energy. The go-it-alone attitude in Texas also contributed to this disasterous power calamity.

Wind droughts – The term wind drought was coined in connection with a prolonged interval of low wind speed in the United States during the first three months of 2015, and this substantially reduced electric-power generation of wind farms. Similar calm periods on the high seas have been known to sailors for centuries. Nonetheless, wind droughts are another myth about the viability of wind energy.

In general, it is well-known that average wind speed over North America is related to climatic conditions in the Pacific region. The 2015 episode of low wind has been attributed to the North Pacific Mode [NPM] state—and more specifically to high sea-surface temperatures (Lledó et al. 2018). A similar wind drought took place in the United Kingdom, which has most of its wind turbines deployed offshore in the North Sea. During summer and early autumn of 2021, the U.K. suffered a wind drought in which production of wind energy declined by nearly one-third of normal (Bloomfield 2021).

It should be noted that power generated by a turbine is related to the cube of the wind speed, thus, small changes in average wind speed have large consequences for generating electricity (Musgrove 2010). Projected global warming may lead to long-term reduction in wind speed in some areas, but cause increases in other places, according to some climate models (Bloomfield 2021). In general, much of the western and eastern United States may experience decreased average wind speeds. On the other hand, the central U.S. could develop increased wind in some seasons, particularly for the southern Great Plains (Chen 2020).

Indeed, a new scientific discipline has emerged, known as energy meteorology, in which climate is viewed as a resource, particularly for wind and solar energy (Olsson 1994). As our understanding of climate, especially wind variability and droughts, improves so will our decisions about wind energy and its deployment and operation in Kansas and around the world.

Back to beginning.
Ideal energy
Ideal energy sources would be available, affordable, reliable, and environmentally sustainable. These are the four major tenets for energy security (Tinker 2013). Wind and solar energy are available in many regions, affordable and sustainable, but reliability is variable. Fossils fuels, on the other hand, are available everywhere and reliable. Affordability varies with geographic, political and economic circumstances, however, and price fluctuates considerably. The extraction of fossil fuels represents mining non-renewable resources. Furthermore, refining and burning these fuels contributes to atmospheric pollution and potential global warming.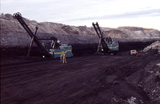 Open-pit coal mine (left) in Alberta, Canada.
Oil refinery (right) at El Dorado, Kansas.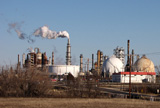 Nuclear power has great promise for green energy, but also has many intractable issues of mining, safety, disposal of waste, proliferation, and public acceptance. Hydropower is clean and renewable, but large projects displace people, disrupt drainage systems, cut off downstream sediment, and impede migrating fishes. It's unlike any significant new nuclear or hyrdopower would be developed in the United States. In other words, each major energy resource has notable strengths and weaknesses—no current or near-future energy source is ideal.

Many people involved with the fossil-fuel industry regard wind energy as an economic competitor based on the belief that developing wind energy would diminish the demand for and use of fossil fuels. In fact, fossil-fuel producers have waged a disinformation campaign against wind energy, and this has been taken up by conservative politicians in Kansas and across the U.S. They have branded wind energy as a "liberal symbol" that should be opposed on cultural rather than technical grounds (Miller 2022). This point of view is amazingly shortsighted, self-serving, and cynical, given the large economic impact wind energy has in Kansas.

The fact is the world will need much more energy of all types to support and raise the overall living standard for some 10 billion people by the end of this century. The fundamental challenge is how to develop affordable energy resources that do not contribute to atmospheric pollution and potential climate change. Wind energy and natural gas are not competitors; they benefit each other because they compensate for one another. Wind energy is variable on a local basis, but this averages out over large regions, and cost is stable.

On the other hand, natural gas is reliable and available, but the price is highly volatile, as seen during the Texas energy crisis in 2021. During the first three months of 2022, as another example, the cost of natural gas in the U.S. increased by more than 50% (Nasdaq 2022), presumably in response to Russia's invasion of the Ukraine. Thus, natural gas and wind solve each others reliability and price challenges (Webber 2012).

No single energy resource is sufficient; rather, a combination of resources may lead to a robust, reliable, cost-effective, and environmentally neutral energy supply. In other words, a balanced or radical-middle approach to energy is necessary for the 21st century (Tinker 2013). This is not a simple undertaking as many costs are not obvious and possible impacts are uncertain.

The switch from one primary energy source to another historically has taken several decades. Three such transformations have occurred during the Industrial Age, and the timing has varied from country to country (Smil 2014). The transition from wood to coal took place for some countries in the late 19th century, although not until the mid-1900s for India and China. Coal remained the primary fuel throughout the 20th century, in spite of the dramatic growth of petroleum. A third transformation is underway now, led by the United States, from coal and oil to natural gas and renewable energy (see above). This transition likely will take another two or more decades in the U.S. and much longer in other parts of the world.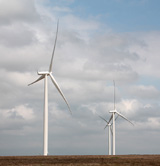 Siemens-Gamesa 2.3 MW turbines in the Alexander Wind Farm became operational in 2015. Total height with a blade in the upright position is 134 m (~440 feet). Rush County, Kansas in the Blue Hills on the divide between the Waltnut Creek and Pawnee River drainage basins.

Given this historical context, wind energy has a long way to go both for technical and financial reasons. Aside from Denmark, an early advocate for wind energy, most other countries did not start serious wind-energy developments until this century (see