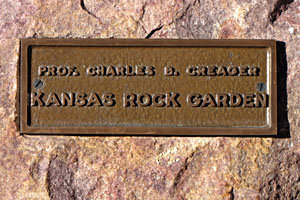 Professor Charles B. Creager
Kansas Rock Garden

James S. Aber
Distinguished Professor Emeritus
Emporia State University

The Emporia State University Kansas Rock Garden is located outside the southeastern end of Science Hall. The idea for a rock garden was conceived in the mid-1980s by the author, designed by Dick Weatherholt, and came to fruition in the early 1990s. The rock garden honors Professor Charles B. Creager, who was Chair of the Division of Physical Sciences (1971-1984). The garden features distinctive rocks from the State of Kansas, including glacial erratic boulders, petrified wood, and fence-post limestone. Click on the small images below for full-sized pictures.
Construction and general overviews
| | | |
| --- | --- | --- |
| | Building the foundation and native-limestone wall that forms the back of the rock garden (1991). | |
| | Pouring concrete for sidewalks of the rock garden. The concrete is tinted adobe-red color, as is the mortar in the limestone wall (1992). | |
| | Overviews of the completed rock garden. Left: early spring seen from the northeast. Right: summer view from the southeast. | |
| | Partial solar eclipse in May 1994. Left: students and faculty prepare to view the partial solar eclipse. Right: crescentic highlights and shadows cast through tree leaves onto the sidewalk. | |
| | Science Hall got a facelift in 2012. The original teal panels and aluminum-shuttered windows were replaced by smoked-glass panels and new windows. These pictures show construction work in progress behind the rock garden. | |
Individual rocks and fossils
Glacial erratics. Left: granite boulder with lichen cover (green spots). Right: Boulder of greenstone; red pocket knife rests on a flat, glacially planed surface. Both were carried by an ice sheet from the Canadian Shield of northern Minnesota or Manitoba and deposited in Marshall County, northeastern Kansas.
Sioux Quartzite. Left: quartzite conglomerate boulder collected from Wabaunsee County, northeastern Kansas. It was carried by an ice sheet from southwestern Minnesota or southeastern South Dakota. Right: glacial scratches and grooves on quartzite from Red Rock Ridge, southern Minnesota.
The largest single glacial boulder (left) consists of green matrix with large quartz crystals (right), a type of volcanic rock. This specimen was collected in Marshall County, northeastern Kansas. It was carried by an ice sheet from northern Minnesota or Canada; comb is 5 inches long.

Stone fence posts are an iconic symbol in the Blue Hills of west-central Kansas. They were quarried from the Fence-post limestone bed of the Greenhorn Limestone (upper Cretaceous) by early settlers. Tool marks remain clearly visible in the chalky limestone. Donated by Paul Johnston from Barton County.

Petrified wood: tree stump and portion of trunk from the Flint Hills of Greenwood County, east-central Kansas. This remarkable fossil tree is early Permian in age. Collected by Paul Johnston.
Left: large nodules of chert (flint) from lower Permian strata of the Flint Hills, Butler County, south-central Kansas. Right: fossil coral from the Clay Creek Member, upper Pennsylvanian strata, Woodson County, southeastern Kansas.

See also G-Hawk Courtyard and rock garden at the University of Kansas.

Return to Geospectra academic webpages.

All rights reserved (2022).
Text and images © by the author.