Historical assessment
During Steno's lifetime, his anatomical and geological works were highly regarded by many contemporaries. Following his death, however, Steno was largely forgotten or ignored from about 1700 to around 1830. Part of the explanation for this has to do with languages. All of his writing was in Latin (except one in French). His Latin had great beauty and poetic value, which made translation into other languages a daunting task.

Nonetheless, the Prodromus was immediately translated into English by Henry Oldenburg, but Robert Hooke accused Oldenburg of stealing his ideas and giving credit to Steno. This put a damper on the Prodromus in England. Most other Latin works by Steno, however, were not translated until the twentieth century. For example, Prooemian was not translated into English until 1994 (Hansen 2009).

More important factors were nationality and religion. Steno was born and raised as Lutheran in Denmark, a relatively small country, which had suffered declining fortunes during the Little Ice Age. While other western European countries had acquired massive New World empires, Denmark's colonies included Greenland, Iceland, and the Faeroe Islands, legacies of a long-gone Viking Age. Steno's advanced studies and scientific works took place in larger, richer countries, particularly Italy, France, and the Netherlands. However, the national pride which has brought many names of less brillant scientists to greater fame did not apply to Steno (Hansen 2009, p. 21).

Steno's religious conversion also played a prominent, perhaps most important, role for his scientific disappearance. Conversions from Protestantism to Catholicism were widespread during the counterreformations of the seventeenth century. Steno was suspect from both points of the religious divide. In Protestant northern Europe, reference to Steno was dangerous; whereas in Catholic southern Europe, Steno was considered somewhat dubious (Hansen 2009).

Alexander von Humboldt rediscovered the Prodromus in 1823, and notified Charles Lyell (England) and Elie de Beaumont, who founded the first geological survey of France (Hansen 2009). Subsequently many other influential geologists came to rely on Steno as an authority. Steno's revival continued during the nineteenth century, and at the Second International Geological Congress in 1881, he was proclaimed the Founder of Geology.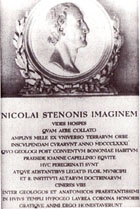 Nicolaus Steno memorial leaf, Florence. Dedicated by
the Second International Geological Congress in 1881.
Image obtained from Wikimedia Commons.

Steno's scientific philosophy was a precursor of a pragmatic gradualistic-evolutionary tradition (Hansen 2009, p. 2). This tradition may be traced down via Hutton, Lyell, Darwin, and Wegener to modern times. Steno's philosophy of science was an important step from Medieval and Renaissance thinking to the emergence of modern science in the eigthteenth century. Indeed, it is likely that Steno was one of the last successful polymaths (Hansen 2009).
Steno and Denmark
Danish geologists today are proud to claim Steno as a native son, in spite of the ironic facts that he was twice forced to leave his homeland and that he never practiced geology in Denmark. Furthermore, the official state Church of Denmark (Den Danske Folkekirke) is an Evangelical Lutheran Church, and the country is overwhelmingly Protestant. Steno is commemorated by the Steno Geology Student Club at the University of Copenhagen.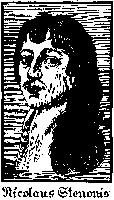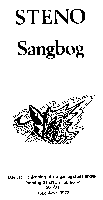 Woodcut illustration of Nicolaus Steno.
Taken from the Steno Songbook
(Steno geology student club, 1973).

The Danish Geological Society awards a "Steno Medal" for high achievement in geology—see 2015 medal. This gold medal was begun in 1969, on the 300th anniversary of the publication of the Prodromus. Finally the Steno Museum is located at the University of Aarhus.

Exterior views of "Steno Museet" at the University of Aarhus in western Denmark. The Steno Museum: Denmark's science history museum, medicine history, science history, planetarium.
Left: Steno display in the museum. Right: patio, water channel, and garden outside the museum building.