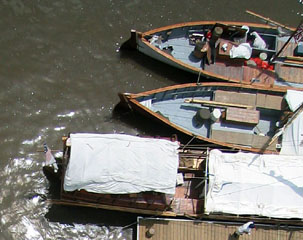 Keelboat Reenactment
Kaw Point, Kansas

James S. and Susan W. Aber

A bicentennial reenactment of the Corps of Discovery voyage was undertaken by the Discovery Expedition of St. Charles, Missouri. A replica keelboat and pirogues were constructed and sailed upriver following the original daily schedule of Lewis and Clark's journey two hundred years earlier. As much as possible, authentic equipment, supplies, food, period dress, and entertainment were provided with the goal of educating people along the route about the original journey.

The Discovery Expedition reached the mouth of the Kansas (Kaw) River in the last days of June, 2004. At "Kaws Mouth" the reenactors spent several days for repair and rest, while they entertained the public with demonstrations and explanations. The campsite was set up at Kaw Point Park, Kansas City, Kansas, and the boats were docked a short distance up the Kansas River. The following airphotos were acquired with a helium blimp on June 28, 2004. Click on small images to see larger pictures; all images © by the authors.
View eastward from Kaw Point, where the Kansas River enters the Missouri River. Downtown Kansas City, Missouri in the right background.
Kaw Point with the reenactment camp set up under the trees. A small excursion boat is tied up at the point. Notice slight difference in water color of the two rivers.
Closeup view of the reenactment camp under cool shade trees at Kaw Point.

| | |
| --- | --- |
| | Keelboat and pirogues tied up beside a floating dock at Kaw Point park. Large tents to left are displays of the U.S. National Park Service, U.S. Geological Survey, and other agencies. |
| | Vertical view of the keelboat and pirogues tied up beside a floating dock at Kaw Point park, while a small excursion boat passes to the right. |
| | Closer vertical view of the keelboat and pirogues. White canvas covers portions of the boats. Notice blimp shadow (upper right) and sun glint from water surface (lower left). |
| | Still closer vertical view of the keelboat and pirogues. The keelboat (A) is 55 feet long. Red pirogue (B) is 41½ feet and white pirogue (C) is 39 feet long. |
| | Closest view showing stern ends of the keelboat and pirogues. Notice the trunks, barrels, and other items visible in the boats. |
| | Ground view of keelboat and pirogues showing arrangement of canvas covers and furled sails while at dock. Downtown Kansas City, Missouri in the cloudy background. |
| | Ground view of campsite at Kaw Point with canvas tents, period attire, and campfire. |
| | Self portrait of the authors with field vehicle and blimp shadow. The blue tarp to left is for inflating and deflating the blimp. |




Related Websites

---

Return to Lewis and Clark atlas.
Last update: June 2004.