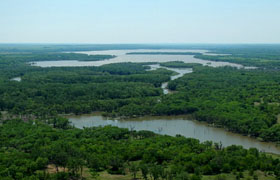 Toronto, Kansas
J.S. and S.W. Aber
Introduction
In mid-May 2014, we had the chance to conduct kite aerial photography at a rural site near Toronto in southeastern Kansas. Conditions were nearly perfect for KAP—steady southeasterly wind at 10-20 mph, mostly sunny sky, and temperature in the 70s F. We flew our large rokkaku kite with both the Canon Elph and Nikon camera rigs in the late morning.

This vicinity is part of the Osage Cuestas physiographic region, which is characterized by mixed land use—crops, grazing pasture, wooded tracts, and small towns. The nearby Verdigris River and Walnut Creek flow into Toronto Lake, a large artificial reservoir, and smaller ponds are numerous. A former Missouri Pacific railroad grade passes across this vicinity. The route is abandonned, rails and ties are removed, and the land is divided between neighboring property owners.

Surficial geology includes interbedded layers of sandstone, shale, and limestone. Oil and gas are produced in small fields nearby. The Chautauqua Hills, also known as the Cross Timbers, can be seen a short distance to the east with oak forest on sandstone outcrops.



Overviews of surroundings

| | | |
| --- | --- | --- |
| | Left: Looking toward the northwest showing cattle, grassland, and lush green winter wheat. Right: old railroad grade of the Missouri Pacific extends to the northwest across scene center. These views of the Osage Cuestas show mostly prairie land cover and uses. | |
| | Views toward the southwest (left) and south-southwest (right) display cattle in prairie grassland and wooded stream valleys. Fields with greener grass were burned a few weeks earlier. | |
Close-up KAP shots

Authors launch a KAP rig from a pasture (left). Two horses in right background watched throughout our session. Cattle came to visit, of course (right). Cattle come for people on the ground, but horses are more interested in the kite!

Ground features

| | | |
| --- | --- | --- |
| | Local bedrock. Left: sandstone with iron rust (orange) and manganese stain (dark purple). Right: old quarry in the Toronto Limestone. | |

Thanks to Paul Johnston for local geologic information.
Related sites
---
Text and images © J.S. and S.W. Aber

Return to KAP gallery.
Last update: May 2014.