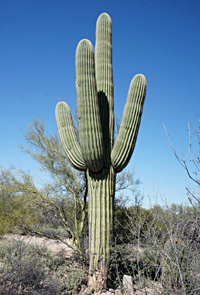 Arizona Kite Aerial
Photography
J.S. and S.W. Aber
(2019)
Introduction
We have visited Arizona many times before, but this was the first trip to bring our equipment and attempt kite aerial photography. We went in February 2019 in connection with the Tucson Gem and Mineral Show (TGMS). We spent about 10 days in Tucson, then headed north to visit friends in Prescott Valley for a few days. Over more than two decades of KAP in many circumstances, we have found that deserts and mountains are generally the most difficult situations in which to conduct KAP, because of highly variable wind and the effects of high altitude. Arizona has both deserts and mountains.
Greasewood Park, Tucson
Tucson weather was generally not favorable for KAP. Temperature ranged from the 20s to 70s °F. Two storm systems moved through with rain, clouds, and windy conditions, while other days were nearly calm. Finally our last full day in Tucson had completely sunny sky and southeasterly wind of 5-10 mph. This is the minimum we need for successful KAP. With such light wind our full attention was focused on flying the kite. We selected our large rokkaku without a tail and used our new autoKAP rig—see Sony camera.
Greasewood Park is located in the northwestern portion of Tucson and is set aside as a natural desert park. Facilities are minimal beyond a small vehicle parking area, a few picnic tables, and numerous walking paths. Two ecozones are represented, namely the Palo Verde-Saguaro upland zone and the Sonoran Desert riparian zone. Anklam Wash is the principle drainage, although it is dry most of the time.
While in Tucson, we acquired a new cargo/tool box with large wheels and used it to transport our equipment along a concrete walking path to a picnic area close to Anklam Wash. We set up there in the late morning after determining that no sagauro cactus, cholla, or other obstacles were in the immediate vicinity. Ground elevation was approximately 2240 feet. The southeasterly breeze carried the kite and camera up and out above Anklam Wash.
Greasewood Park
Aerial views

| | | |
| --- | --- | --- |
| | Looking toward the southwest (left) showing Anklam Wash in the foreground. Closer view (right) with a "forest" of saguaro cactus. The green trees are palo verde. A walking path leads toward houses in the background. | |
| | Close-up shots of Anklam Wash. Picnic tables and a concrete walkway allow good access and resting places. | |
| | Parking area and main picnic shelter (left). Greasewood Road and Speedway Boulevard intersect in the left background. Close-up view (right) of saguaro, cholla, and other upland vegetation. | |
| | JSA (left) flying the kite from a picnic area. Line real is anchored to the grill post. Low-height view (right) of prickly pear cactus; note shadow of camera rig at top center. | |
Greasewood Park
Hazardous plants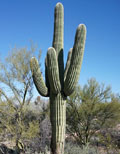 Saguaro cactus (left) and barrel cactus (right).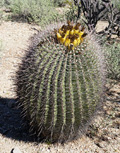 Prickly pear cactus (left) and cholla (right).

Fain Lake, Prescott Valley
Prescott Valley in northern Arizona is about twice the elevation of Tucson and has a noticeably colder climate. Nearby Prescott was the territorial capital of Arizona and the center of considerable mining activity in the past. We stayed with our friends, Jim and Susan Schubert, who hosted us and helped us to locate potential sites and to conduct KAP at Fain Park.

Fain Lake is a small reservoir dammed in a narrow valley on Linx Creek. Lake surface elevation is 5075 feet. The lake is designated as "community fishing water" by the Arizona Game and Fish Department. Several sport fish include channel catfish, rainbow trout, sunfish, and largemouth bass. Surrounding rocky outcrops consist of granodiorite, which is similar to granite but with a higher portion of dark-colored minerals. Age of the granodiorite is middle Proterozoic, approximately 1680 million years old (Johnson et al. 2013). Tailings piles and gravel pits from old mines are found along Lynx Creek valley nearby.
The Linx Creek District is listed on the National Register of Historic Places. Monument at Fain Park adjacent to our flying station on the ground.

The adjacent small park provided a venue for KAP. Sky was mostly clear and wind was in the 10-15 mph range. This should have been ideal for our purposes, so we flew our large rokkaku with a tail and the new autoKAP rig with Sony camera. However, swirling wind in the narrow canyon proved troublesome, and a wind shift from southwest to southeast caused further problems. Kite flying required our complete attention. After finishing the photo session and removing the camera rig from the kite line, we were forced to land the kite on the far side of a tree. Nonetheless, we recovered all equipment without incident or damage.
Fain Lake
Aerial views

| | | |
| --- | --- | --- |
| | View westward (left). Linx Creek enters the lake at lower left, another small tributary, Alberson Wash comes in at lower right. The road in background is Stoneridge Drive. Overview looking to south (right). Again, Stoneridge Drive is the road in background. | |
| | Overview toward north (left) along 5th Street. Commercial enterprises and residential area beyond. Note the powerline across bottom of view; we set up to avoid this obstacle. Also a water-supply canal is visible. Water is diverted from upstream and feeds into Mesa Reservoir downstream (right). | |
| | Close-up shot of the Fain Lake dam (left). An observation deck (*) overlooks the narrow canyon below the dam. Even closer view of granodiorite rock outcrop (right) next to dam. | |
Reference
Johnson, B.J., Cook, J.P. and Pearthree, P.A. 2013. Geologic map of the Prescott Valley South 7˝' quadrangle, Yavapai County, Arizona. Arizona Geological Survey, DGM-103 (Prescott Valley South), v. 1.0. Accessed from the NGMD (National Geologic Map Database).

---
Text and images © J.S. and S.W. Aber

Return to KAP gallery or KAP home.
Last update: February 2019.