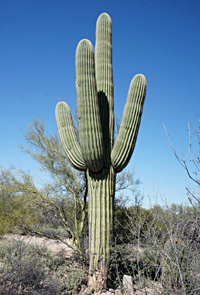 Tucson, Arizona
Kite Aerial Photography
J.S. and S.W. Aber

Introduction
We have visited Arizona many times before, but our first KAP venture took place in February 2019 in connection with the Tucson Gem and Mineral Show (TGMS). In 2020 and 2023, we repeated the trip to Arizona for the gem and mineral show. During each visit we conducted kite aerial photography in a Tucson city park. Over more than two decades of KAP in many circumstances, we have found that deserts and mountains are generally difficult situations in which to conduct KAP, because of highly variable wind. Tucson is located in a desert basin surrounded by mountains.
Greasewood Park (2019)
Tucson weather was generally not favorable for KAP. Temperature ranged from the 20s to 70s °F. Two storm systems moved through with rain, clouds, and windy conditions, while other days were nearly calm. Finally our last full day in Tucson had completely sunny sky and southeasterly wind of 5-10 mph. This is the minimum we need for successful KAP. With such light wind our full attention was focused on flying the kite. We selected our large rokkaku without a tail and used our new autoKAP rig—see Sony camera.
Greasewood Park is located in the northwestern portion of Tucson and is set aside as a natural desert park. Facilities are minimal beyond a small vehicle parking area, a few picnic tables, and numerous walking paths. Two ecozones are represented, namely the Palo Verde-Saguaro upland zone and the Sonoran Desert riparian zone. Anklam Wash is the principle drainage, although it is dry most of the time.
While in Tucson, we acquired a new cargo/tool box with large wheels and used it to transport our equipment along a concrete walking path to a picnic area close to Anklam Wash. We set up there in the late morning after determining that no sagauro cactus, cholla, or other obstacles were in the immediate vicinity. Ground elevation is approximately 2500 feet (~760 m). The southeasterly breeze carried the kite and camera up and out above Anklam Wash.
Greasewood Park
Aerial views

| | | |
| --- | --- | --- |
| | Looking toward the southwest (left) showing Anklam Wash in the foreground. Closer view (right) with a "forest" of saguaro cactus. The green trees are palo verde. A walking path leads toward houses in the background. | |
| | Close-up shots of Anklam Wash. Picnic tables and a concrete walkway allow good access and resting places. | |
| | Parking area and main picnic shelter (left). Greasewood Road and Speedway Boulevard intersect in the left background. Close-up view (right) of saguaro, cholla, and other upland vegetation. | |
| | JSA (left) flying the kite from a picnic area. Line real is anchored to the grill post. Low-height view (right) of prickly pear cactus; note shadow of camera rig at top center. | |
Greasewood Park
Hazardous plants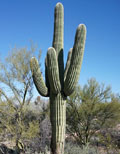 Saguaro cactus (left) and barrel cactus (right).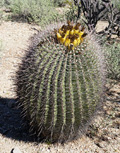 Prickly pear cactus (left) and cholla (right).

Joaquin Murrieta Park, (2020)
Like Greasewook Park, Joaquin Murrieta Park (JMP) is located in the northern part of Tucson. Our flying site was approximately 8 miles from the nearest border of Tucson International Airport, well beyond the 5-mile limit required by the FAA. JMP is a traditional city park with playgrounds, picnic tables, and baseball fields. JMP is located on the alluvial plain of the Santa Cruz River, as is most of central Tucson. Elevation is approximately 2340 feet (~715 m). The dry drainage channel on the east side of JMP is Silvercroft Wash, which begins to the southwest near Starr Pass and empties into the Santa Cruz River north of the park.

Entrance sign (left) for Joaquin Murrieta Park and scoreboard (right) for the Western Little League ball field.

We arrived in the afternoon on Groundhog Day. It also happened to be Superbowl LIV, which was won later that evening by the Kansas City Chiefs. However, JMP is devoted to baseball, not football, as evidenced by numerous ball diamonds in the park. In particular, JMP hosts the Western Little League, which has a record of numerous district and state chamionships.
Joaquin Murrieta Park
Aerial views

| | | |
| --- | --- | --- |
| | Overview to southeast (left) toward downtown Tucson in the distance. Closer shot (right) showing the City of Tucson Trini Alvarez-El Rio Golf Course. The green fairways and greens contrast nicely with the tan-brown rough areas. The large white and blue building in lower right is the Boys and Girls Clubs of Tucson, Steve Daru Clubhouse. | |
| | Left: view toward the northwest over residential housing. The major street that runs diagonally across the scene is Silverbell Rd. Right: close-up shot of houses just north of the park. Notice the palm trees and light-colored roofs to reflect heat. | |
| | Looking southward (left). The dark hills in the distance are Sentinel Park (left) and Tumamoc Hill (right). Ball diamonds (right). Upper right is the Western Little League field with a practice field to lower right. Larger fields are on the left side. | |
Rio Vista Natural Resource Park, (2023)
The Rio Vista Natural Resource Park is located in northeastern Tucson next to Rillito Creek at approximately 2360 feet elevation. The creek is normally dry except after heavy rain events. The park is multi-use for various recreational activites that include walking, running, biking, and horseback riding. It also has picnic shelters and a children's playground. The park is a wildlife habitat with coyotes, owls, bobcats, rabbits, birds, rodents, and snakes. Scattered locust trees are the main vegetation.

We arrived in late January on a clear afternoon with light wind from the northwest and high temperature in the mid-60s °F. We selected our large rokkaku without a tail and used our autoKAP rig—see Sony camera. Wind speed was not constant; the kite and camera rose high and descended several times, but eventually we acquired several good views of the park and surrounding terrain. Several people stopped to watch and talk to us about kite aerial photography.
Panorama looking toward the northeast. Rillito Creek valley is the north boundary of the park with the Santa Catalina Mountains in the distance. The round feature in the center foreground (<) is the Rio Vista Compassion Garden (see below).
| | | |
| --- | --- | --- |
| | Overviews toward the north (left) and northeast (right) with the Santa Catalina Mountains on the far horizon. The highest visible peaks exceed 7000 feet elevation. | |
| | Left: close-up view of the childern's playground (above) and a picnic shelter roof (below). Right: horse stables and riding practice area immediately south of the park. | |
| | Close-up aerial view (left) and ground shot (right) of the Rio Vista Compassion Garden. Between scattered locust trees, the ground is bare sand and gravel. | |
Silhouette views
Low sun angle created long shadows. SWA (left) stands ready to catch the camera rig as it comes down. JSA (right) prepares to launch the camera rig. Note the bright halo around the camera shadow. This bright position on the ground is known as the hot spot or opposition effect. It's in direct alignment with the camera and sun.
Reference
NGMD 2023. National Geologic Map Database. U.S. Geological Survey. Online access.
---
Text and images © J.S. and S.W. Aber

Return to KAP gallery or KAP home.
Last update: February 2023.