Origin in the 1930s
In the early 1930s there was nationwide enthusiasm for growing roses, especially much promoted hydrid tea roses, as well as for developing municipal rose gardens. Then, too, these were stressful years of the Great Depression and thoughts of gardens, roses and natural beauty were heartening. Laura Smith had come to Kansas City from the "City of Roses," Portland, Oregon, and was eager to share her personal rose growing knowledge and appreciation. Her very feminine technique for spreading rose zeal was to invite a few friends to her home for a cup of tea and to listen to weekly radio "Rose Talks," sponsored by the American Rose Society and aired in the spring of 1931. Mrs. Smith was obviously a natural and gracious promoter.

On April 30th, when the radio presentation was to be "How to establish a municipal rose garden," 65 guests, including representatives of the Park Department, Chamber of Commerce, and area nurserymen, were treated to lunch and the radio show. With this introduction, Mrs. Smith proposed that Kansas City should have its own municipal rose garden. This project was so well showcased that the following week, on May 9, 1931, a branch of the American Rose Society was founded, the Kansas City Rose Society (KCRS), and Mrs. Clifford B. Smith was its first president.

In short order, representatives of the KCRS met with Park Department officials, and they agreed to establish a Municipal Rose Garden. This, then, was the beginning of the mutually beneficial partnership. KCRS would furnish the roses and the Park Department would care for them. On Sunday, June 7, 1931, following an elaborate rose show at the Smith's Westover Road home, the first unit of the garden, 120 rose bushes, was dedicated in the northwestern corner of Jacob L. Loose Memorial Park.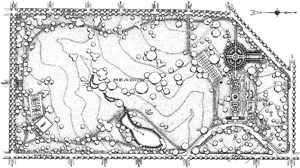 General plan view of Loose Park, Hare and Hare, 1930. North to right; Wornall Road across bottom (east) edge. Note location of rose garden in northwestern corner of the park. Taken from Lee et al. (1995, p. 55).

The tract of land which became Loose Park was in 1864 the site of the Civil War Battle of Westport. With time, it became farmland which at the turn of the 20th century was converted into the golf course of the Kansas City Country Club. Then, when the Country Club moved, these 80 acres of green space at 51st and Wornall Road, just south of the growing Country Club Plaza, were purchased in 1927 for $500,000 by Mrs. Ella Clark Loose. She gave the land to the city as a public park and as a memorial to her late husband, Jacob L. Loose, founder of the Loose-Wiles Biscuit Company, now Sunshine Biscuits.

Left: historical marker for the Kansas City Country Club.
Right: statue of Jacob L. Loose given by his wife.

It is hard to imagine a more perfect setting or design for the garden. Park Department landscape architect, S. Herbert Hare, designed a classic concentric rose bed plan encircled with limestone and timber arches and pergolas, centered around a water pool. The initial concept was timeless and has undergone little change from the beginning. The varieties, colors, and vigor of roses have grown more splendid through the years.