Emporia Chess Society
Emporia, Kansas




The Emporia Chess Society (ECS) is an informal association of chess players and supporters in the Emporia vicinity of east-central Kansas. The society was organized by Emile Darga and Chris Seeman in 2003. The club meets weekly at coffee shops for recreational chess games, informal analysis, instruction, and friendly practice.

People of all ages and levels of chess experience are welcome! Preschool to seniors, beginner to expert players. There is no charge or membership fee. Come every week or just when you are able to play a game of chess. Bring your own chess set, if you have one.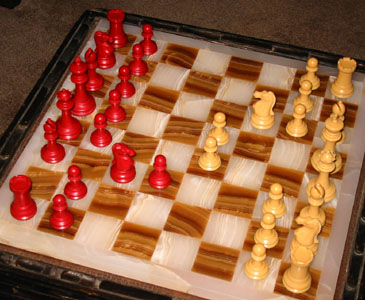 Gravel City Roasters
715 Commercial
Mondays, 5:00 to 7:00 pm

Granada Coffee Co.
809 Commercial
(suspended)

Chess coachs: James Aber received chess-coach training from the Karpov International School of Chess in Lindsborg, Kansas (see below). He had instruction from GMs Yuri Shulman, Var Akobian, and Timur Gareyev. He's available along with Dusti Howell to help beginning players understand and improve their chess skills.
Sidewalk chess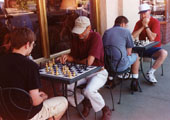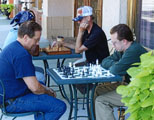 Photos by A. Spencer.

ECS News
August 2022: Qualifying games for the FIDE Fischer Random Chess Championship have begun—see random tournament. Final games will take place in October in Reykjavík, Iceland. This tournament is sponsored in part by Lichess. Provided by L. Huang.

July 2022: Fischer Random, also known as Chess960, has become increasingly popular among ECS players. Here is a link to a site for all 960 possible starting positions in Fischer Random chess. Provided by J. Schubert.

Following a summer hiatus during the month of July, ECS will resume regular meetings on August 1, 2022.

November 2021: Gravel City Roasters has moved up the street to 715 Commercial. Weekly meetings continue as usual on Mondays (see above).

May 2021: In-person meetings at Gravel City Roasters will resume on Monday, May 3rd (see above). Wear a face mask to enter and order, but mask may be removed while seated at a table. All skill levels are welcome for friendly play. Remember to bring your chess set, if you have one.

November 2020: In-person chess play is suspended, again, because of a resurgence of the coronavirus pandemic. This hiatus will continue at least until early next year.

September 2020: After a six-month hiatus, ECS is meeting again on Mondays at Gravel City Roasters (see above). Meeting time, 5:30-8:00 pm. Bring your chess set and wear a mask.

March 2020: Because of the current coronavirus risk, ECS is suspending its weekly meetings temporarily. We will resume meeting when the situation has stabilized.

December 2016: The ECS team KanZona (Jim Schubert and Jim Aber) participated in a world record attempt by GM Timur Gareyev to play the most number of blindfold chess games. The event took place in Las Vegas, Nevada. GM Gareyev played 48 games simultaneously while blindfolded and riding an exercycle. The tournament began at 8 am on Dec. 3 and ended in the wee hours of the next morning. Player strength ranged from <1000 to >2200.

Timur Gareyev during the world record attempt. He pedalled the exercycle slowly to provide physical activity and often made hand movements to simulate moving chess pieces on the board.

Team KanZona had the white pieces, and we played the Polish opening (b4) in order to get off normal opening lines and create a complicated and irregular setup. We did not trade the first piece until move 20 and never did castle. This approach led to a drawn-out game with few chances for either side. Our game lasted 19 hours, 38 moves, and ended in a draw offered by GM Gareyev.

During the game, we alternated taking moves. Jim Aber (left) prepares for the first move (pawn to b4). Jim Schubert (right) announces and makes a move midway through the game. Team KanZona was among the last 10 games to finish in the tournament. See game moves.

Out of 48 games, 43 onsite and 5 online, Gareyev won 35, drew 7 and lost 6 for a total score 38.5 points (80% won/lost). This bested previous blindfold records of 46 games (FM Marc Lang, 2011, Sontheim, Germany) and 45 games (GM Miguel Najdorf, 1947, Săo Paulo, Brazil). See blindfold world record and Gareyev interview as well as an interview with JS of team Kanzona.
Guinness world record.
July 2016: Charlie Wilks and Jim Aber attended the Karpov Chess School summer camp this month in Lindsborg, Kansas. During the week, several tournaments were held among the chess campers. Charlie, playing in his first tournament, took second place in blitz chess, and Jim tied for second in the rated main tournament.

| | | |
| --- | --- | --- |
| | Unusual variations of chess. Board for four players (left). Braille chess sets for tactile play (right). Practice set on left and main set to right. | |

New Dala horse on the sidewalk outside the Karpov Chess School. The Good Knight Dala has a theme of chess pieces and was sponsored by Marck and Francine Cobb.

September 2015: Sketches of ECS players drawn by honorary member Jim Schubert who now resides in Arizona.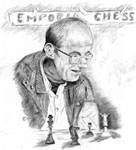 Andrew: I can't believe
you just took my queen!

Charles: Kasparov is
giving me a free rook!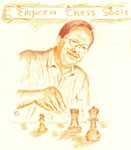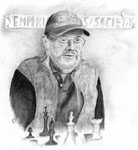 Jim: I should have played
the French defense.
Sketches © J. Schubert.
October 2013: Jim Schubert, Kyle Granzow and Jim Aber from ECS went to the biennial Swedish Hyllningsfest in Lindsborg, Kansas, where they assisted with open house at the Karpov Chess School.
Left: Street scene outside the Karpov Chess School following the parade. Right: Jim Schubert (left) plays a speed game against Gabriel Purdy, who is the manager/instructor of the chess school.


Young players try a game with the large chess set. Note the Swedish colors, yellow and blue.

Oct. 2011: Kari Bowles and Jim Aber from ECS opened the Karpov Chess School in Lindsborg, Kansas for the biennial Hyllningsfest parade and celebration. Many people visited the school, and some played chess!

Left: preparing for the parade in front of the school. Right: visitors playing chess inside the school.

Dec. 2010: Lixiao (Lisa) Huang and Jim Aber represented ECS at the Lindsborg Open, where Lisa won the Top Unrated trophy for her first tournament competition. Congratulations Lisa!

Nov. 2010: Emporia State University has recognized an official student chess club, organized by Lisa Huang. The ESU Chess Club meets in conjunction with the ECS; all students are welcome!

Oct. 2009: Chess in the afterschool Quest program is underway again this year, and the ECS is pleased to help. James Aber is coaching students at Lowther Intermediate schools (5th & 6th grades), and Dusti Howell has started a chess program at the Turning Point Learning Center, a K-8 charter school in the Emporia district.

Feb. 2009: Beginning last autumn, Robert Hossfeld and James Aber have been conducting chess classes for the local public schools as part of the after-school Quest program. They are currently supervising students in elementary and intermediate schools in the Emporia district.

September 2007: James Aber returned lately from a trip to Slovakia and Poland, where chess playing and wooden chess sets are quite popular. He acquired a hexagonal chess set designed for three players. This game was selected as the best new product in Poland in 2005. The game is exciting and fast paced. Without any opening theory, tactics and temporary alliances become more important than long-term strategy for winning.

| | |
| --- | --- |
| | Vertical view from a church tower of outdoor chess at a souvenir stand in central Košice, Slovakia. For a small fee, anyone can play chess. |

July 2007: Zach Button took first place in the scholastic division of the Kansas Chess Open tournament. Congratulations Zach, who has become a top contender in Kansas scholastic chess!

Feb. 2007: James Aber presented a pair of leaded stained-glass panels to the Karpov Chess School in Lindsborg, Kansas. He designed and built the panels, which depict stylized king and queen chess symbols. The panels are displayed in windows of the school. Aber made similar panels for the Emporia Chess Society, which hang in windows at the Granada Coffee Company.

Susan Aber (left) and James Aber (center) hold stained-glass panels in front of the Karpov Chess School along with school president Marck Cobb. Photo by John Marshall, Lindsborg News-Record.
Related sites
---
This webpage is presented for general public use and enjoyment.
For further information, contact jaber@g.emporia.edu.
All rights reserved; text and images © J.S. Aber.

Return to GeoSpectra homepage.
Last update July 2022.